A few weeks ago Lake Louise played host to the Ice Magic Festival – a 10 day event where you can watch ice sculptures unfold before your eyes.
Last year I had planned to attend but it was so busy by mid-afternoon on a Sunday that you had to take a shuttle from Lake Louise Village; I wasn't interested in dealing with the crowds and gave it a pass. But this year I was staying overnight at the Fairmont Chateau Lake Louise – so I had a chance to photograph the ice sculptures at night and first thing in the morning when the sun hit them.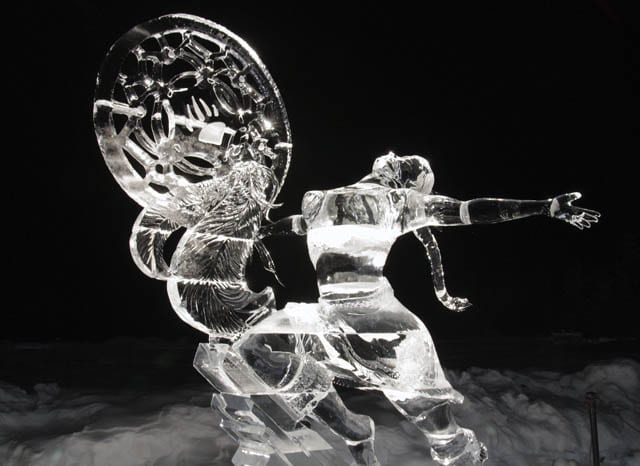 Although the ice carvers stick around only for the Ice Magic Festival, their work remains until Mother Nature decides to warm things up. By Sunday last weekend some were already a little worse for wear after an unseasonably warm spell.
On my recent trip to Saskatoon I had a chance to speak with one of the ice carvers – Kee Gawah – who is responsible for the harp in the photo below. Interestingly most ice carvers come from a culinary background and Kee was no exception. He'd been a pastry chef in Sweden and was looking to make his work more interesting. A stint with some of the best carvers in Japan has changed the direction of his life and now he's on the international ice carving circuit. (Who knew there was such a thing??)
When to take pictures of ice sculpture
If you want to photograph ice sculptures it's especially important to be around when the sun makes them sparkle – and in Lake Louise that means first thing in the morning. They're still beautiful in the afternoon but they won't dazzle you in the same way.
Which of the ice sculptures from the Lake Louise Ice Magic Festival is your favourite?
Leigh McAdam